About The Map Room
The Map Room is a blog that points to maps, map collections, map-related resources, and material about maps on the web. Anything that fits under that rubric, from medieval mappæ mundi to satellite imagery, and from topo maps to Tolkien, is fair game.
Launched in March 2003, The Map Room is aimed at a broad audience. While cartographers and people in the geospatial industry seem to enjoy reading it, it's meant to be accessible to anyone with nothing more than an interest in maps.
Need more information? Consult the FAQ. Have a question? Try contacting me.
About the Author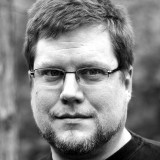 I'm Jonathan Crowe, and I'm not a map expert. I don't work in the geospatial industry, I'm not an academic cartographer — and, until December 2008, I didn't even own a GPS. I started this blog as an exercise in self-education: I thought that the best way to learn about a subject I was interested in, but didn't know much about, would be to blog about it. (For my background in maps, read Maps and Me: A Personal Essay.)
My training is in European history, but I work as an editor and writer, both online and in the public sector. My other Internet projects include:
My personal site is at mcwetboy.com, where I also have a personal blog. When I'm not blogging, writing or correcting other people's grammar, I raise snakes, play the piano, and look through my telescope. I live in Shawville, Quebec, with my significant other, Jennifer Seely, and our many interesting animals.
You can also find me on Facebook, Flickr, FriendFeed, Gowalla, LibraryThing, LinkedIn, LiveJournal, MetaFilter, OpenStreetMap, Twitter and YouTube.
Privacy Information
If you contact me, your e-mail address will not be used except in correspondence, and will not be shared except to forward a question or comment to someone who might be able to assist you. Messages sent via the contact form may be published on this website, but your e-mail address will not be included. The contact form also collects your IP address (to combat abuse) and your browser information (for troubleshooting purposes).
This site looks up your IP address in a geoIP database to determine which Amazon store to serve ads from and stores that information in a cookie. I don't see that information.
Third-party companies (i.e., Amazon.com and Google) serve ads on this site; these companies may use information (not including your name, address, e-mail address or telephone number) about your visits to this and other sites in order to provide advertisements about goods and services of interest to you. If you would like more information about this practice and to know your choices about not having this information used by these companies, click here.